Kudos to Arkansas Department of Health! Create Your EHAC Toolkit
Update for February 2021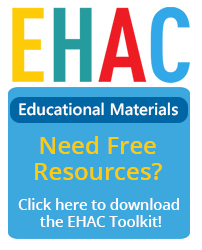 The Arkansas Department of Health has created outreach for their Faith Based Communities that includes an EHAC Toolkit. By clicking the link, a place of worship can print, share or receive free EHAC materials. As many of our hospitals and public health departments review new ways to share education, many have created new on-line capabilities for their communities. If you want to create your own EHAC toolkit, work with your hospital web team by saving the EHAC icon (shown at right) and share the links you can find on our download page. Need help? Contact us at community@acc.org.
#EHACSavesLives #EHACeducation
---
New! EHAC Poster: 9 x 16
Update for January 2021
The updated EHAC posters (9 x 16) are now available in English and Spanish. They contain the same information as the EHAC brochures and the educational content has not been changed.
#EHACSavesLives #EHACeducation
---
New! EHAC "Life Hack" Video
Update for December 2020
We've just released the new EHAC Life Hack Video that you can download for free and use in your hospital outreach. It's an overview of the EHAC Course and what people will learn by taking the education.
---

New! EHAC CPR AED Poster
Update for November 2020
We've just released the new EHAC/CPR/AED Poster in English. This poster provides a broad overview of the steps that a responder should take if they miss the early signs and symptoms of a heart attack. This does not replace CPR or AED certification, but it is meant to make people more responsive to a person in need.
New Materials and Videos for Chest Pain Coordinators
Update for October 2020:
New! For all chest pain coordinators that are deploying the EHAC outreach in their facility, the video above provides a step-by-step process. If you have any questions or if you need the materials in the video, please visit the Educational Materials page or contact us.
New! The new Community-Based outreach is now available for our hospitals. To see an example, visit the UF Health Central Florida page on our website. To request a demo, please contact us. To register your hospital, please fill out the form and submit to community@acc.org
New Videos!
Update for September 2020: The new EHAC Postcards are now available. Do you need a smaller hand-out for your outreach? We've created the "EHAC Postcard" Series. The free downloads are available in English, Spanish, and Marshallese. The setup is similar to the EHAC Pledge Cards and you can create four handouts from one 8.5" x 11" page. Also, don't miss us at the ACC Quality Summit Virtual. Registration is free and the Deputy Heart Attack program will be sharing the latest Early Heart Attack Care educational information.
Update for August 2020
:
In order to help expedite your education deployment, here are the latest releases to help you with your EHAC deployment. If you have any questions or need help, please contact us!
EHAC in Marshallese: The EHAC brochure and poster are available in Marshallese.
EHAC Pledge Video: Dr. Raymond Bahr gives the EHAC Pledge. Use this in your outreach to encourage people to take the pledge. Stay tuned as we'll be releasing more soon for virtual health fairs.
EHAC "Poster": The brochure is now available in a one page 8.5 x 11 document that you can print or email.
Call 9-1-1 Graphic: Use this graphic to encourage your community to Call 9-1-1.