40 Years of EHAC: The Bart Giamatti EHAC Program with the MLB
Dr. Raymond Bahr is more than just the Founder of ACC Accreditation Services. His Early Heart Attack Care program is a benchmark of community outreach and education for heart disease. The Bart Giamatti Early Heart Attack Care Program was deployed in 1996 with Major League Baseball. The following is Dr. Bahr's recollection and tribute to Robert (Bobby) Brown, MD.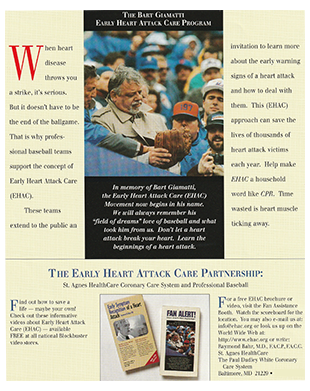 With the recent passing of Dr. Bobby Brown, I wanted to share my memories and heartfelt thanks to this great man. See, he was pivotal in the formation and deployment of the Bart Giamatti EHAC Program that was shared in baseball stadiums from 1996 to 1998 and educated over 500,000 people.
Unfortunately, it all began with the death of Bart Giamatti who was a beloved Commissioner of Major League Baseball. He had a heart attack and, to all of us who loved baseball, his death was shocking and considered a tragedy. He was only 51. At the time, the EHAC Program at St. Agnes Hospital in Baltimore, Maryland, had received a $210,000 grant from Boehringer Mannheim to begin educating baseball fans in stadiums.
As many of you know, Bobby Brown was also a cardiologist and he was one of the first people we contacted regarding this outreach. However he asked us to contact Mrs. Giamatti to get her approval to use her husband's name so we could call it "The Bart Giamatti Early Heart Attack Care Program" for Major League Baseball. After we received her permission and the permission of Allan Selig (the next commissioner for the MLB), we proceeded to move forward with the program.
Bobby Brown contacted the general managers of all 28 Major League Baseball clubs at the time and asked them to participate in the program. They all agreed and I responded by sending each club 5000 of the program EHAC brochures. The response was overwhelming and the requests kept coming in. I sent out more materials to each of the clubs and we knew that our message resonated with the audience. It was a simple tribute to a man who died at the age of 51. But maybe so many people saw themselves in the message?
The Bart Giamatti EHAC Program ran for three years until the grant ended. I know we educated over 500,000 people during this time and I know that we saved many lives with this education. And this success is all thanks to Bobby Brown. He was a man who understood that heart attack education is critical to saving lives and, despite all of his other responsibilites, took the time to promote my unknown program to so many people.

May his spirit rest in peace.
Sincerely,
Raymond D.Bahr, MD
---