Deputy Heart Attack Program: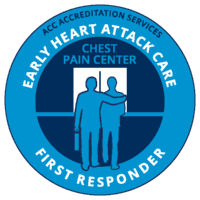 For 40 years, the Deputy Heart Attack program has disseminated Early Heart Attack Care education. What's the difference?
The Deputy Heart Attack program is a public outreach platform that asks you to "Recognize and Respond" in the event of an emergency using the knowledge you learn in the Early Heart Attack Care (EHAC) education. The Deputy Heart Attack program uses the "Buddy Badge" to demonstrate the activation of the bystander who promises to help someone receive critical medical care.
The "Buddy Badge" incorporates all of the elements of the critical life-saving actions: EHAC, Hands-Only CPR, AED deployment and, above all, Calling 9-1-1!
To help us save lives and battle the high mortality rate of cardiovascular disease, use the hashtags #EhacSavesLives and #EHAC .